INDUSTRY SOLUTION EXPERIENCE
Production Scheduling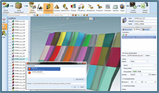 With the automated feedback loop in Production Scheduling which includes sub-shift scheduling, sub-shift activities are optimized based on known constraints to ensure that decisions are made on an NPV basis.
Key Highlights and Benefits:
Offers a robust system to identify and collect all of the tasks necessary to deliver on production forecasts, and then integrates and synchronizes those tasks for execution excellence.
Receive real-time feedback from operations to reschedule as necessary and stay on plan.
Identify variance from schedules and make adjustments to meet long-term objectives.