INDUSTRY SOLUTION EXPERIENCE
Virtual Mine Construction Simulation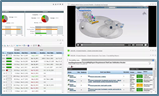 Virtual Mine Construction Simulation allows the validation of the project plan before construction starts. This helps ensure projects are delivered on schedule and within budget through the optimization of the construction sequence, which is based on accurate infrastructure and facilities models. Health, safety, and environmental issues are addressed with 4D simulation tools that deliver added support for understanding impacts and risks.
Key Highlights and Benefits:
Construction innovation is improved through 3D collaboration, planning, and project execution using the 3DEXPERIENCE® platform.
Safety can be enhanced with "human" simulation and detailed ergonomic analyses
Continuous improvement can be supported through the capture and reuse of construction best practices.
Projects can be kept on track while containing costs with infrastructure and facilities designs that are integrated with the project plan and procurement schedule.