INDUSTRY SOLUTION EXPERIENCE
Mine Construction and Commissioning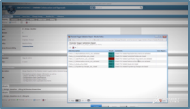 Mine Construction and Commissioning helps improve productivity and eliminate waste by linking requirements to deliverable that achieve lean construction execution. Project teams are empowered to plan day-to-day activities more thoroughly by taking constraints, material availability, and precedence of tasks into account.
Key Highlights and Benefits:
Output of clear 3D construction instructions help to ensure on-time construction and commissioning.
Electronic work reporting and real-time status reports lead to faster decision making.
"Last Planner System" integration with Virtual Mine Construction Simulation turns a construction plan, which was optimized in the virtual world, into realilty in the real one.