INDUSTRY SOLUTION EXPERIENCE
Mining Procurement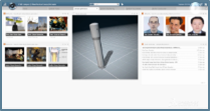 Mining Procurement helps improve control over procurement budgets, avoid disputes with vendors, and deliver on time to specifications. With requisition based on engineering progress and real time status updates, it becomes easier to deliver on schedule, identify risks, and take timely corrective action.
Key Highlights and Benefits:
Just-in-time delivery and superior understanding of the downstream impact of changes to designs is possible through a requisition (RFQ) process that integrates engineering and procurement functions.
Issues can be responded to and corrected faster as risks are flagged automatically, in real time.
Auditability and traceability is more thorough and robust by linking together all information related to procurement.