INDUSTRY SOLUTION EXPERIENCE
Mine Project Planning and Execution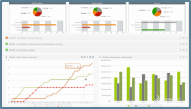 Mine Project Planning and Execution provides a single version of the truth and an integrated master schedule across engineering, procurement, and construction. This leads to a superior ability to manage scope, cost, and schedules from feasibility through to commissioning of the operation.
Key Highlights and Benefits:
An integrated master schedule helps ensure optimized construction planning.
Improved resource allocation is made possible through global collaboration through the 3DEXPERIENCE® platform.
Ability to assess the impact of change across deliverables helps to decrease project risks.
Multi-project platform manages and provides access to a wide variety of data to support continuous improvement initiatives and regulatory compliance.