INDUSTRY SOLUTION EXPERIENCE
Mine Development Work Package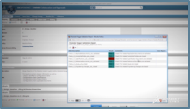 Mine Development Work Package provides digital engineering management from planning though to execution, enabling the handling of large amounts of data, including all requirements and changes to the project. With global access to up-to-date information, rework is reduced, engineering cycle times are sped up, and it becomes easier to identify risks.
Key Highlights and Benefits:
Enhanced communication and collaboration, including anytime, anywhere access to up-to-date 3D models, reports, and real-time dashboards.
Enables establishment of rigorous engineering change order management processes.
An improved understanding of all aspects of a project result from capturing, documenting, reporting and tracking requirements during all phases of both mine site and mine plant development.